Reese Witherspoon showed up at the U.K. premiere of
Water for Elephants
wearing this cobalt Custom Stella McCartney bustier dress. I really have mixed emotions about this look on her. Let's start with the color. LOVE LOVE LOVE cobalt on Reese! Next, on to her hair and make-up...again, I love it all!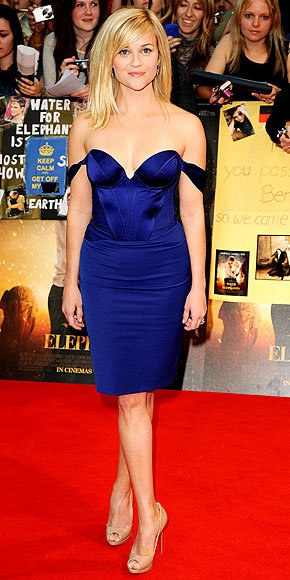 What is killing me about this look are the straps. I mean, what is going on there??? I guess they are made to be worn like that...but my question is: why? In my eyes it looks as though the dress is too large in the upper part of it, and the straps are just falling down. It actually kind of reminds me of back in the 90's when people would wear denim overalls with one, or even both straps down. I never understood that look...ever.
You be the judge, is this dress absolutely fabulous? Or do you hate it as much as I do?
source