People that know me know that I can't stand country music. But, when it comes to fashion I often am looking to Taylor Swift for inspiration. I just love her wardrobe...especially her amazing cocktail dresses. Taylor was recently spotted wearing this adorable red strapless dress to a CMT bash. She kept her look very simple and didn't go overboard with accessories. She let the bold red in her dress (and lips) be the star of the party!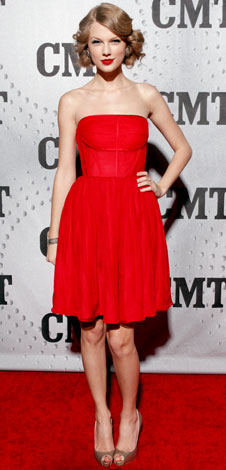 I love the idea of wearing a red frock for the holidays. It's actually something I do not have in my wardrobe. Can you believe that? I have so many little black dresses...I have to add in a little red dress to the mix. It's such a great look for Christmas or New Year's Eve parties, making you stand out in the crowd. Who doesn't love a little attention???
Here are some of my favorite red dresses...and if you are also in need of a great red dress (or would just love another one) I strongly suggest incorporating these looks into your party style---
Hybrid Dress With Sweetheart Neckline And High Hemline available at
ASOS
$154.53
Begging for Mercy Strapless Red Dress available at
LuLu's
$38
Classic Strapless Dress available at
Forever21
$19.80
$88 $59.50
Gondola Engagement Dress available at
ModCloth
$79.99
Red at Night Dress available at
ModCloth
$69.99
Will you be wearing red this holiday season???
img