Over the past year or so I have been trying to get in to a more regular beauty routine. I always try to be really good with my skin care, hair care, and makeup...but to be quite honest,
I get lazy
. I buy products, use them for a little bit, and then they just sit on my shelves for months. Terrible...I know.
That is all changing this year
. The following products are items that I seriously do not know what I'd do without. Some are items I actually have been using for years, and others are new to my beauty regimen (thanks to amazing Christmas gifts).
(NEW FAVORITE) I am obsessed with
Burt's Bees Almond Milk Beeswax Hand Creme
! Over the last few years my hands are so insanely dry over the winter. I have tried
absolutely everything
on them. But the cracks and dryness doesn't stop! I
finally
have gotten relief with this! Also, the smell is amazing!!! It is my all time favorite smell in the world. Seriously.
(OLD FAVORITE) I have been using
Maybelline Full N' Soft
for years now. Every once in a while I will try a different type of mascara...but nothing compares. I could spend three times more on mascara, and I still see myself wishing I had purchased some Full N' Soft from the drugstore. What is it that makes this mascara so great? It doesn't clump and doesn't flake. Lashes stay so soft and light...it's like you're not wearing anything on them at all.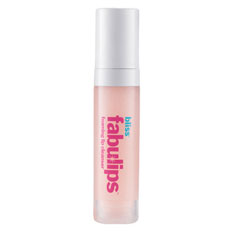 (NEW FAVORITE) Say bye-bye to dry and chapped lips this winter.
Bliss Fabulips Foaming Lip Cleanser
has instantly beautified my pout! The product goes on like a gel, and within seconds it starts to foam up. You leave the orange scented foam on for about 20-30 seconds and you actually feel it working. You then rinse it off and your lips feel good as new! It's my favorite new product. So much so that I have been using it twice a day. I can't get enough of it!
(NEW FAVORITE) I adore all in one makeup kits. Everything you need to achieve a great look in a neat little container...sign me up! This
Smokin' Eyes kit from Benefit Cosmetics
has everything a girl needs to pull together the perfect smokey eye. Eyeshadows, eyeliner, tweezers, shadow brushes, and eyebrow colored wax...it's
PERFECTION
in a kit! I have been using this little kit quite a lot...and I honestly don't know what I'd do without it...especially the brow wax.
What are your must have items for 2014???